Thanks for stopping by. Enjoy my site.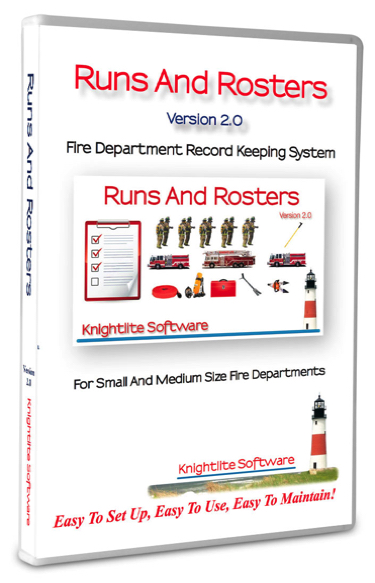 IMPORTANT - PLEASE READ BEFORE DOWNLOADING
If you had a pre-release version on your computer, please back up your Runs and Rosters system files before installing.
Then install the software application. DO NOT overwrite exiting files, when prompted.
Full Version
Download This File To Do A Fresh Install Of Runs And Rosters.
Updated Version
These files will update your Runs and Roster system to the latest release. It will not affect your database files. If you previously installed the full release use this install to update your Runs and Rosters system.
Version 2.0.4
Updated January 30, 2018
Download and try Runs and Rosters for free. It will be fully operational, but run in Demo Mode.
While in Demo Mode the application will run 50 times for 30 minute intervals. That gives you 25 hours of use to decide whether the product is appropriate for your fire department.
You can activate it anytime by purchasing it at our website.

System Requirements:
Windows 7 With Service Pack 1, Windows 8.1, Windows 10.
macOS Mavericks, Yosemite, El Capitan, Sierra, High Sierra.
Memory : Windows & Mac 1 GB
Disk Space: Windows 200 MB. macOS: 105 MB.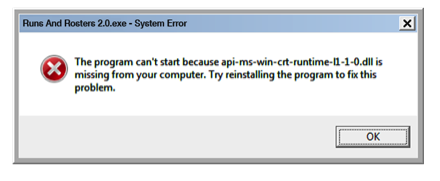 Release Notes Version 2.0.3
1) Print Preview Window - Added window resizing.
Release Notes Version 2.0.3
1) Meetings Window - Fixed problem deleting members names from Roster.
2) Updated User Interface to properly format Windows computer screens while running in full-screen mode.
3) Added feature to Apparatus Equipment Books to allow users to add Expiration Dates to items recorded in the Equipment Books.
4) Adjusted Weather Underground code.
Release Notes Version 2.0.1
1) Button added to delete unneeded default apparatus names from Apparatus Center.
2) Updated Equipment Book window so QR names are derived from the apparatus name instead of equipment name.
3) Updated Vehicle Checks window so captions change correctly when a different apparatus is selected. (Windows Version)